Character profile: Hortense Roberts (Naomie Harris)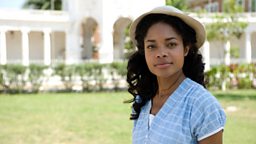 Born out of wedlock in an illegitimate, but not loveless, liaison between her affluent Jamaican father and an illiterate farm girl, Hortense is brought up by her father's cousin as playmate to his son, Michael. After Michael's return from boarding school, Hortense realises her feelings for him are more than just fraternal.

A naturally proud and headstrong woman, Hortense has always kept her true parentage a secret. She also has a strong sense of her own destiny: to live in England with Michael and be a teacher there. When Michael is sent away to the war, Hortense instinctively fights to keep her dream alive and proposes to Gilbert, a man she hardly knows, but someone who will aid her passage to England. She arrives in a country which both surprises and disappoints her in its bleak and unfriendly 'greyness', but it is through this new life that she discovers a different side to her character and, for the first time, the meaning of true love.